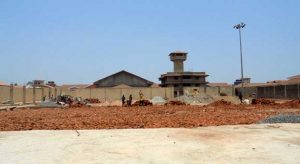 THE THRILL OF THE GAME
The magic of playing and watching football sport cannot easily be described, but its power to unite and excite is unquestioned. And the provision of quality playing surface is vital part of satisfying the players and spectators alike.
We have worked with the Goa Football Association (GFA) for last 4 years have good working relationship with them for operating and maintaining their synthetic turf fields. During the course of our visits to GFA, I G Prison invited us to inspect and advice the design and quality of turf that would be useful for prison use.
We are extremely pleased to work on such initiatives that help the society and has human values. Moreover Goa and football go hand in hand and such projects enhance our image in sports world not only in India but in the region. Football in Goa is not only a sport but a religion.
We believe that sport can be used as a tool for positive social change. Across the globe young people – particularly those excluded because of disability, poverty, race, religion or other social and economic factors – simply don't have access to good, safe, enriching physical activity.
We are extensively involved, through our European partners, with social upliftment programmes in conjunction with FIFA's Football for Hope programme which uses the power of the only true global sport to change the lives of young people, educate around pressing social issues such as HIV/ Aids and assist with the development of skills that can lead to a better life for communities across the world.
This is our initiative to give back to the society and make the world a better place to live through the power of sports.